Black Hills Excessive Faculty freshman, Aurora Glassburn, offers with on-line college and neighborhood service throughout COVID-19
IIt's hard to be a newbie. A brand new school, new classmates, new teachers, and a very different planning system from middle school. It becomes even more stressful for students when they have to start high school remotely. But Aurora Glassburn, a 14-year-old freshman at Black Hills High School, hasn't let this year's setbacks dampen her passion for community donation and finds some positives about navigating distance learning.
Aurora, or Rory as she is known, says high school is "a little scary and busy! I actually had no expectations. I was going to play volleyball and see my friends. "What she wasn't expecting was online learning, no exercise and no personal friends.
"It's definitely harder," says Rory of the online school. "It's harder to sit in front of a screen for an hour and forty minutes for each class. It's hard to get motivation for my job. "She says she's struggling with the workload too. "Each class gives us a task every day so I don't have a lot of free time."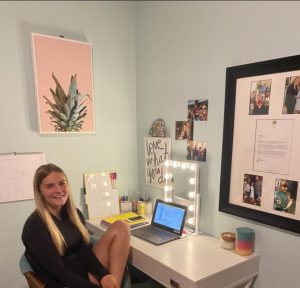 Rory had to start high school from afar, and it was a challenge. However, she has found positives in everything. Photo courtesy Carissa Glassburn
And like most teenage girls, there is something she misses dearly about personal school. "Sociability !!" she calls out. "And get to know new people. I really miss leaving the house, I have bad cabin fever! "
Rory wasn't worried when asked if she would like to continue studying online even after face-to-face learning reopened. "No, absolutely not," she says. "Never in a million years." But while she first claimed there wasn't anything about the online school that she liked, Rory was able to find a few positive things under pressure. "My favorite subject would be sports because I like my teacher," she admits. "He's very energetic and unintentionally funny." And she likes her cooking class and her yearbook class, both subjects she didn't have in middle school.
With the quarantine and online training, Rory has baked a lot, using both her mother's recipes and the ones she finds online. "I recently made a lemon pound cake for the first time that was so difficult to make," she shares. "We didn't have a duster so I had to use a cheese grater to make the lemon peel. But it was so good. "
Hand back
Rory and her mother baked cookies to sell money for the grocery bank. Photo courtesy Carissa Glassburn
She and her mom, Carissa, were also busy making lemon sugar cookies, which they make every year. But this year they sold some as a fundraiser for the food bank. "We paint them with a mixture of egg whites and food coloring and sprinkle them a lot," explains Rory. "We have raised $ 400 that we will deliver next week, and we have a schedule to volunteer so we can sign up soon. My friend wants to come with us when we do this. "
This is not a new thing for Rory. She has been giving back for years. In 2016 she organized a Food Drive where she collected over 900 items for the Thurston County Food Bank and volunteered there. She helped customers get their groceries, stock shelves, and make vacation grocery bags at the Tumwater warehouse. "I feel good when I help other people," she explains. "And it gets me out of the house and does something productive during quarantine."
In 2017, she also helped her mother train a recreational basketball team through Tumwater Parks & Recreation. The team was an all-boys team called The Birds. "There was another girl who helped us train," says Rory. "It was cool to be all the girls coaching a boys team." She helped by demonstrating activities, setting up equipment, and even filling in for scrimmage drills if they dropped a player. She played basketball for four years before switching to volleyball, so she had the skills.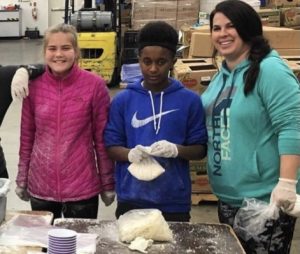 Aurora Glassburn, left, was working at the flour station with a few friends preparing bags for the Thurston County Food Bank. Photo courtesy Carissa Glassburn
"I loved going with the guys when they were driving lines to see if I could beat them," she adds. "I want to train a little girls team one day."
Rory is already thinking about her next community project. "I was thinking of making Christmas dinner and bringing it out," she says. "I also checked a few weeks ago and it looks like the grocery bank is still open. I want to volunteer there and my friend wants to come with me."
In this darker time, when it's easy to get depressed or see the bad in everything, we could all take a card out of Rory's hand and learn to make the best of any situation. With teenagers like you in the world, the future is in good hands.