[Written by Mikaela Ian Pearman]
For my final stop for the restaurant weeks, I decided to try a brand new restaurant – Aurora at Newstead.
As this is Blu's sister restaurant and is a new ocean-to-table concept from the MEF Group, I expected to be amazed. And I absolutely was.
My husband and I arrived at 7:30 pm on Friday night and were promptly seated by the Bermudian hostess Jasmine, who I remembered from her excellent service at Tempest Bistro.
Within minutes of sitting down, our drink order was taken and Chef Adam Thompson came to greet us with a special mini starter – hibiscus salmon with Jonah crab, seaweed salad and horseradish cream.
I will anticipate this by saying I did not order this starter and after trying it I would have missed it. The presentation was beautiful and it was the perfect little bite.
The cream went wonderfully with the salmon and seaweed salad and added great texture. I could absolutely have eaten more of it.
For my actual starter, I went with Burrata Zucca – fresh burrata, pumpkin from the steam grill, fried figs, raspberry balsamic vinegar and crushed hazelnuts. This dish was as beautiful as it was delicious. The burrata was creamy while the hazelnuts added depth and crispness, the pumpkin gave it a fresh vegetarian element, the figs added sweetness, and the balsamic vinegar pulled it all together. It was an excellent starter.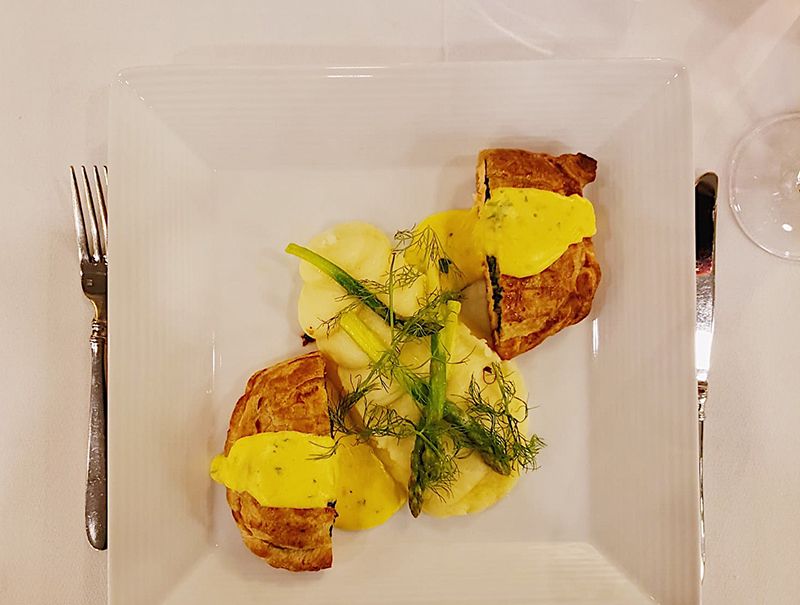 Mainly I decided to try Faroe Islands Salmon En Croute with mascarpone whipped potatoes, buttered asparagus and bernaise. This was the perfect dish to enjoy on a super cold Friday night as it was calming and decadent. I was surprised by the portion size [I assumed I would get a small portion because of RW] and excited about the dish as a whole.
The salmon was moist and flavorful, the pastries were flaky and light, the potatoes were almost perfect mashed potatoes, and the bernaise was a lovely addition to the salmon. I would definitely order this again.
Limoncello souffle was what I ordered for dessert and when I saw the menu. It was light, sweet, and the perfect way to end a wonderful meal. I had to go with the souffle because I think the best souffles are at Blu and this is the sister restaurant. As much as I prefer a chocolate souffle, this lemon version was wonderful.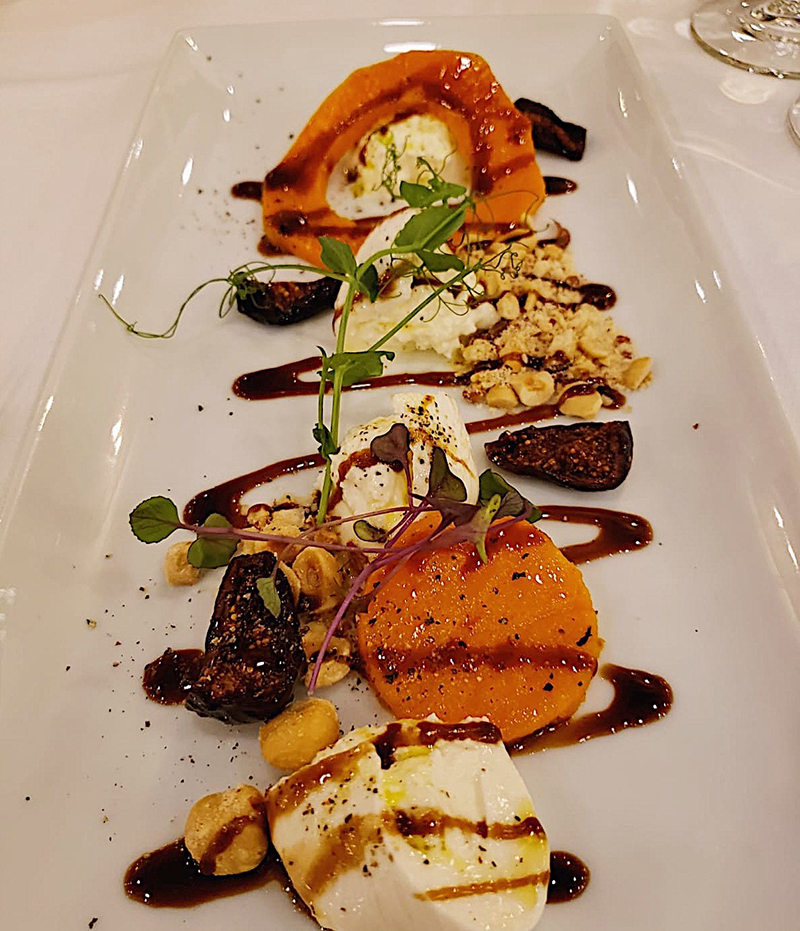 Overall, this was an amazing meal. The service was top notch and I really appreciated that Chef Adam came out to check on us and explain what we were eating. I also loved the fresh decor in Aurora. It's much brighter and more welcoming, with white walls, tones of blue for the carpet, and large mirrors flanking one side of the room.
I highly recommend booking Aurora before RW ends. The value, service and food are all amazing.
* Aurora is in the $ 52 category.


Read more about
category: Everyone, entertainment